Scroll down the page to hear testimonials from some of the fantastic students that have completed different pathways as part of the Future in Tech programme
---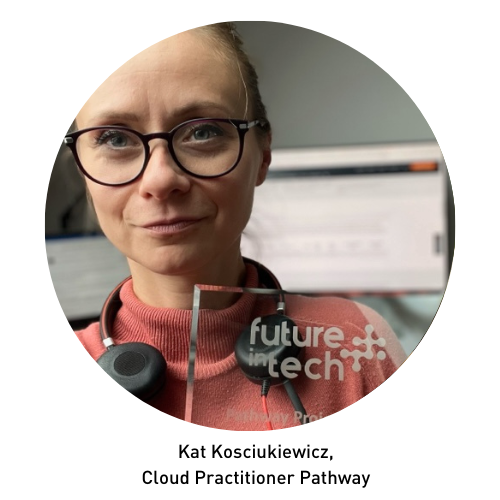 I enjoyed the "Future in Tech" programme. I was interested in cloud computing and was delighted when I was accepted to the Cloud Practitioner Pathway. I found the programme engaging and challenging in a positive way and the certifications gained allowed me to secure a job in my dream company – AWS. I would like to thank Brian Rogers, whose knowledge and experience from working in the industry were invaluable addition to the course material. Our mentor Louise Hutton has provided us not only with support about the project but also insight into real-life project management. I'd highly recommend it to anyone thinking of working in the cloud computing field, or to those who just want to understand it more.
---
I am a housewife, with some working experience in the area of testing from a number of years ago. I started looking for online courses to update my knowledge and get back into the workforce. I found the Future in Tech programme and was successful in getting a place on the Software Developer Pathway. The programme was well organised and allowed me to update my knowledge and gain industry relevant certifications to help with my job search. I am very grateful to my tutor, my mentor, my career advisor and all the Future in Tech team for their valuable knowledge, help, support and patience in clearing my doubts and helping me to gain my certifications. After completing the course, I have not only gained knowledge but also confidence and I am looking forward to my job search. I would like to recommend the programme to everyone who wants to upgrade their skills for better employment opportunities.
---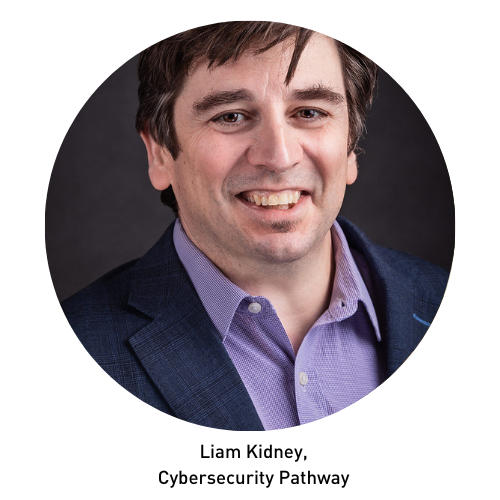 During Covid I made the decision I was going back into IT after a long break and I looked at what training I could do to transition back into that sector. I worked as a professional photographer for 14 years before I applied for the Future in Tech Program. I did the Cybersecurity Analyst Program and I found it great. My lecturer was very enthusiastic about the technology and she really encouraged us all to grasp the new concepts and terminology etc. I successfully passed two industry certified exams (Microsoft Window Security Essentials and Comptia Security +) as part of the course. She also encouraged us to learn more than what was on the curriculum and was a real advocate for learning Cyberseurity at all levels. All of this helped me start my new job in IT support where I have settled in well. I would highly recommend the training and course to anybody that is looking for a career change. It is a real catalyst for learning.
---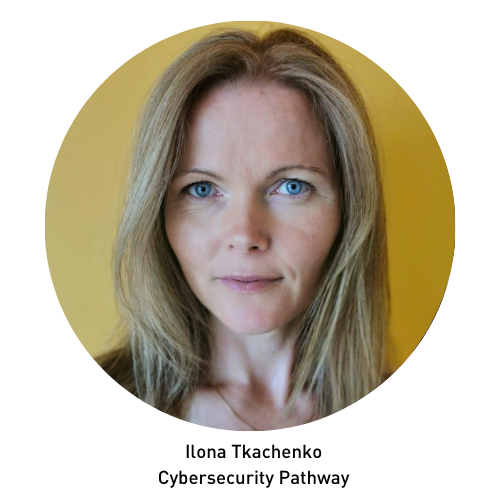 During the pandemic in 2021, I came across the Future in Tech Cybersecurity Analyst course, which piqued my interest as I badly needed something challenging and interesting to focus on. And while the course was advertised for total beginners, it was both challenging and at times I felt like I have gone way over my head. But the support and constant guidance from our amazing lecturer – Eileen Moloney – who is so passionate about cybersecurity made this career changing journey into an amazing opportunity I never thought would have been attainable. I also am the proud winner of a Future in Tech Security Pathway Project where I had to lead and encourage our team towards the completion of the project. It was another amazing experience I got to enjoy with the Future in Tech program! Our mentor – Sarah McGowan – was amazing at guiding our group throughout the project with guest appearances who were gladly and passionately passing on their knowledge to us! I am now enjoying a fulfilling position as a cybersecurity analyst in a leading telecommunications company in Ireland and I haven't looked back. This is an amazing programme to join for both, total beginners in IT (like me) or seasoned IT professionals, who would like to expand their knowledge into cybersecurity. Thank you, Future in Tech, for giving me this amazing opportunity!
---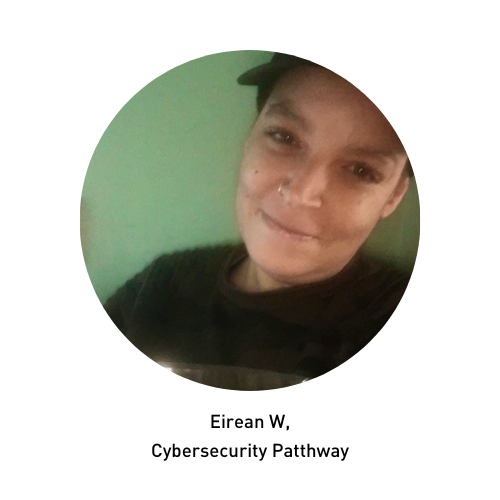 I cannot recommend the 'Future in Tech' program highly enough!
Like many others I lost my business due to COVID and to say I was looking at a future that wasn't so bright was only the half of it. It was then that I came across 'Future in Tech. I saw that they offered a range of training pathways, I chose Cybersecurity. I found it an excellent course and knew straight away that I had found my true calling. I was no way a computer expert but with excellent tutoring from Eileen, training supports and tools, mentorship and job ready skills (I could go on…) I now not only have a wealth of knowledge but I'm confident and looking forward to using my newly acquired skills!
I'm thinking I'd like to be an SOC, Pen Tester or Incident Responder…..the opportunities available to me are numerous. Now my problem is deciding which one?
Thanks Future in Tech, I really appreciate it!
---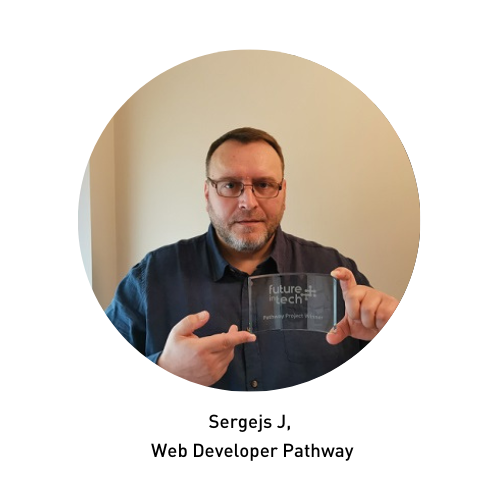 All I have to say is that Future in Tech is an incredible programme. It provides all content for studying as well as full support from enrollment to job hunting. A well-designed Programme, especially with tutoring and mentor support at each stage. I began learning web development on my own, which was extremely difficult, and I searched online for courses. Future in Tech was providing a Web Developer path course, which was exactly what I was looking for. Practical assignments have assisted me in mastering the critical web development skills that will enable me to advance to the next level and excel in the future. I'd like to express my heartfelt gratitude to all people who created and working on this programme!
---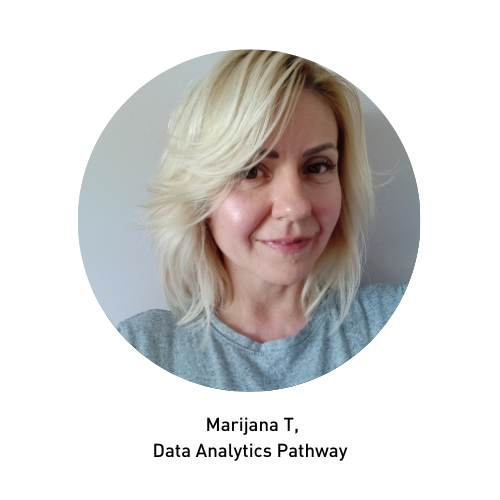 The Data Analytics course proved to me that even people without previous experience are capable of learning new IT skills. The course had just the right pace so that students could follow it easily.

I would like to emphasize the patience our tutor had for all the students' needs and questions during the course.
---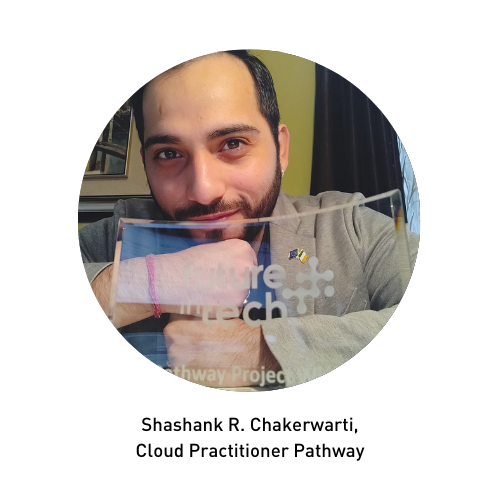 After graduating with a Master's degree in International Business at a time when there was no international business, i.e. 2020 during a global lockdown, I was faced with very few options. Thankfully I heard about the Future In Tech programme on the radio and immediately submitted an application. I was delighted to be accepted onto the programme and specifically to the Cloud Practitioner Pathway.

I am eternally grateful to the Future In Tech team, Professor Rogers at Cenit College, the Best Mentor – Nick Penston, and of course to my fellow students all of whom helped me to better understand the subject matter. Not only have I received an education and gained industry relevant qualifications to help with my job search but my team members and I won the Future in Tech Pathway trophy for our end of programme presentation. It has been a great experience and one I would not hesitate to recommend.
---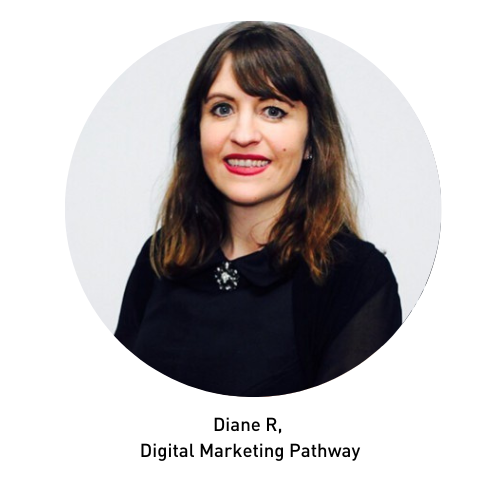 This course offers a great insight in to the world of digital marketing. There's a huge amount of content available through online and live classes, meaning there's ample opportunity to engage with professionals in the field. There's also plenty of engagement with other students on the programme, particularly through the group project. I'd highly recommend it to anyone thinking of working in the field, or to those who simply want to understand it more.
---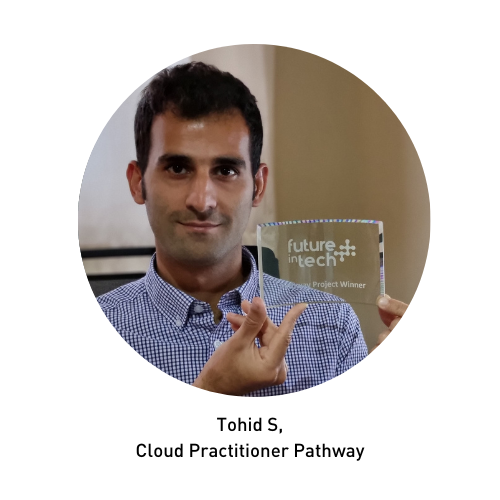 As a newcomer to Ireland during the pandemic, I experienced difficulty in finding a job. When I saw the Future in Tech advertisement, I felt this could be the light at the end of the tunnel. This programme is led by a great and knowledgeable team. The classes are very well organised. There is also career support to help you find your path. The entire programme is well designed and very professionally led.

I want to thank all the programme members, I appreciate all the help and support I have received.Taking part has had a significant impact with my job search and I am delighted to have found a great job at Planetpayment in IT Support.
---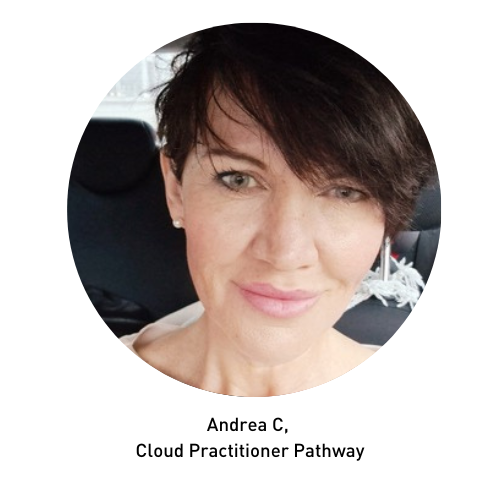 I lost my job due to Covid and when I heard that Future in Tech were offering a course for industry high demand positions I applied straight away. After a couple of tests, I got into the program. The program has been great because it's conveniently online and guided by a lecturer who makes it easy to ask questions. There's also a group for the class where we can ask questions with each other so it's nice to have that support. Lorraine helped me organize my CV and answered all of my questions about getting a job. She met with me over video and we went through it together. After a month of following her advice I got a government job as a cyber analyst. Delighted with the outcome. While my pathway in Cloud has not yet finished, I will be continuing on as I think it will add to my CV and my current position. There are many different pathways to suit what you're interested in. I'd highly recommend Future in Tech to anyone interested in getting started in IT and finding a rewarding career.
---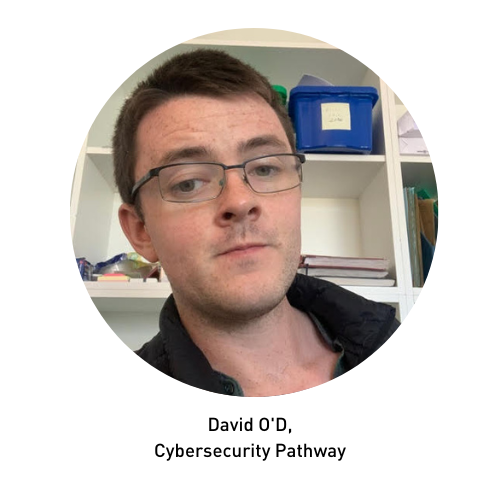 Future in Tech helped me to land a job in I.T. that I wouldn't have had the confidence to apply for otherwise.

The Cybersecurity course is challenging but the certifications make me definitely employable and has given me confidence.

I'm lucky to have been granted a place and given the opportunity to get Industry Qualifications for free that ordinarily would have been very expensive.
---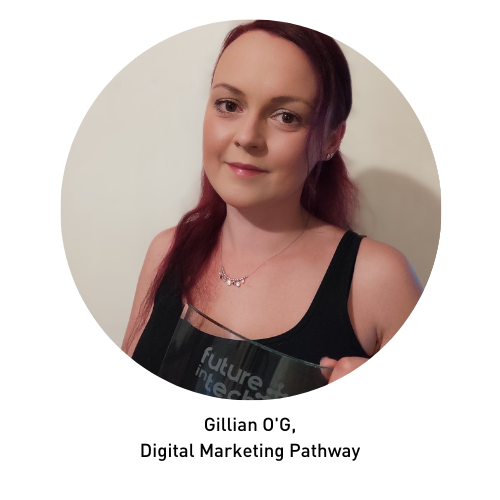 I started looking for courses online and thankfully found Future in Tech. I selected the digital marketing pathway. Six months after starting the course I am now a Certified Digital Marketing Professional. I was delighted to get a job from the programme. I found the programme gave me alot more confidence when it comes to putting yourself out there. I was able to look at areas that I would of never considered previously. You get back what you put in.The project gave such a hands on experience. Overall, I would reccomend the programme to anyone. The programme has been a great first step in my career.
---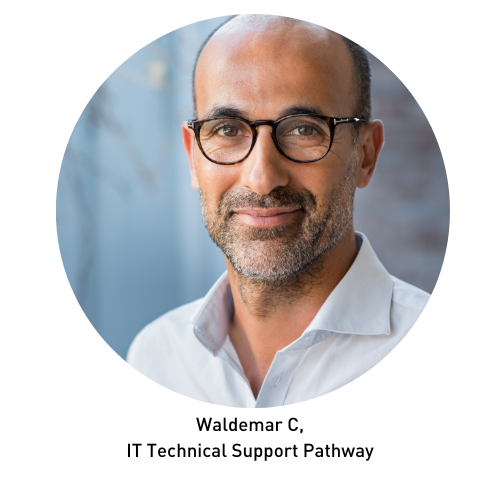 I would recommend Future in Tech programme to everybody who is technical-minded and wants to increase their chances for employment.

I was just a regular computer-user and enrolled on IT Technical Support path, when I was made redundant due to Covid-Pandemic.

To be honest, it was tough (especially at my age of 58) but it was worth it. Currently I got a job offer to work remotely from home with a computer.

It would have not be possible without upskilling. I only wish, I was much younger when I started the course. I would have certainly pursued my career in IT.Great course provider and great tutors.
---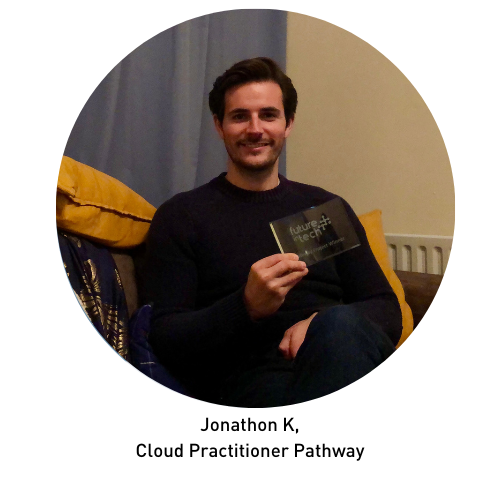 The Future in Tech programme provides a framework for, and puts structure on, the acquisition of a selection of well-recognised industry certificates to kickstart one's journey into a career in the IT sector.

Participation in the programme came at the perfect time for me during the pandemic as I had spent much of 2020 looking at roles that I was interested in but couldn't apply for as I didn't have the foundational qualifications. Completing this programme has opened the door for me to move forward with my IT career ambitions.

What really made this programme stand out for me was being assigned an industry-professional mentor. Jarlath's guidance and support provided me with invaluable insights into the professional world that I otherwise wouldn't have.
---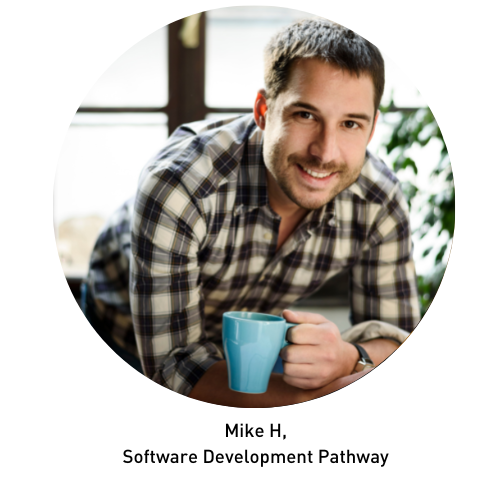 Having had a career in the transport industry, the decision to move to technology was a challenging one.

The Software Development Pathway is hard work but the tutors and mentors provide support at each stage. I enjoy the tutorials and the connection with fellow students. Having the option to re-watch recorded lectures is very useful. The course has given me more confidence to pursue a position in tech. I plan to use the Career Service also to help move me forward when the time comes.
---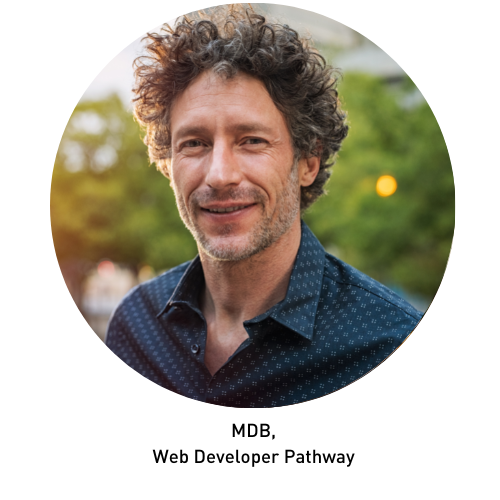 I had been out of the IT business for over 10 year and found it very difficult to secure a position in the industry as a result. I enrolled in the Web Developer Pathway as a way of upskilling and re-connecting with the world of IT. I am delighted to say that I recently secured a post as IT Manager in the Health Sector and I believe it was due, in no small part, to the training/upskilling offered by ICT Skillnet – many thanks guys.
---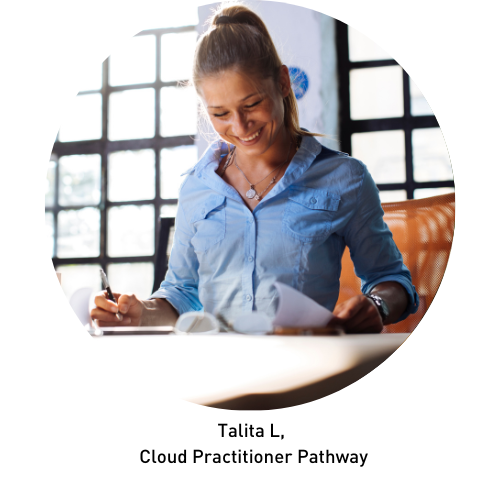 This is my biggest opportunity within Technology in Ireland, if I had not been doing the Future in Tech Cloud Practitioner Pathway I might not have gotten this job. The Future in Tech course Tutor helps us see our potential, everyone who was recruited with me for this job was in the field either by studying or by having worked in the industry, this is a great opportunity for me, I still have lots to learn. My Mentor in Future in Tech is very knowledgeable and a great support to me.
---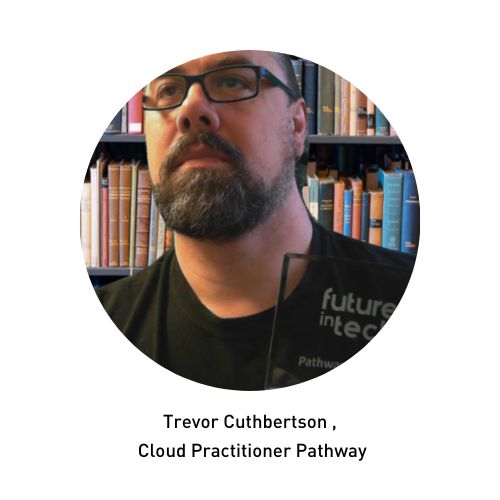 My previous role was made redundant due to Covid and a organisational restructure, therefore unexpectantly, I found myself looking for my next ..well anything really, I was deflated.

Coming originally from a technical background I had lost touch with cloud technologies due to a foray into Project Management. This course offered me an excellently combined, well-placed and Certified view into two of the major could technologies out there and a huge stepping stone into the world of Cloud technologies.

I found the course to be light enough digest and deep enough to challenge me, it pushes your knowledge to not only pass the exam and to understand the material. I found the lecturers knowledgeable in the field and drew on real life experiences to make things relatable. The user of both internal and external resources, along with the use of SLACK and the twice weekly course sessions meant that you had a team to answer your questions. There is never a stupid question. The course sessions were live and interactive thus you were able to become involved in the conversation if you so chose. This is a great way to learn.

This service on top of an already excellent course will help to drive you forward into your chosen career or help to steer you if you are still unsure of a direction to take.

Its great to have been part of such an amazing journey along side some amazing people.

Would I recommend this pathway course into cloud technologies.. Too right I would.
---